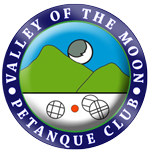 Hello and thank you for visiting the VOMPC website. The successful and enjoyable 2016 Season came to a close in October; the 2017 Tournament Season has begun. However, there is no need to wait until then to have some good ol' pétanque fun. Weather permitting, daily afternoon play takes place at Depot Park.
If you are interested in becoming a member, or if you have any questions, please click our Contact page or call the Club's hotline at (707) 934-4844 and leave us a voicemail. Scroll down to see the most recent event flyer or click Event flyers.
Looking forward to seeing you with boules in hand and on the pétanque courts!
Sincerely,
The 2017 VOMPC Board of Directors
Barbara Hall – President
Holly Sammons – Vice President
Maggie Lane – Secretary
David Clark – Treasurer
Ed Clay
Debbie King
Wolfie Kurz